Tank Truck Fall Protection
2021 is about Safety, Don't Forget about Falls.
(Above Picture from 2020 Oregon Forest Fires)
Despite the universally heightened awareness regarding safety protocols throughout 2020, the tank-truck industry has been slow in terms of implementing fall protection. For drivers & employees getting atop the tank can be the most dangerous part of their job and this area of safety cannot be without a remedy.
Each year, countless falls, near-falls, serious injury and deaths occur because someone has a mishap on a ladder or while atop the tank. This is especially true during the access and egress from a ladder, and particularly so in slippery environments, such as oil and petroleum facilities, and in inclement weather.
The TRAM Safety System is a proven cost-effective way to ensure worker safety while being the most reliable and robust fall prevention system on the market. Compared to handrails and bi-line systems, TRAM is the only system that provides fall protection while on the ladder, where most falls occur. Reliable and easy to use, TRAM requires no regularly scheduled preventive maintenance and is the only approved ANSI and OSHA system for tanks. TRAM can be removed and reinstalled when retiring a tank from service and offers the very best warranty available for fall protection systems.
Call Us Today for a Safer Tomorrow.
Hassles With
Handrails
Not MSHA or OSHA compliant
High Cost
Costly Maintenance Issues
Slow Install
Slips, Trips & Falls
Lack of Access & Egress protection
Continued Risk of Falling into Tank
Cold Weather Issues for Pneumatic & Pop Up Rails
Lack of protection for drivers Big & Tall
Aerodynamics
Tight dimensions limiting mobility
Added Weight
Handrails must be 48" tall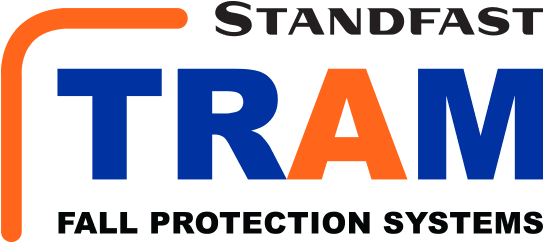 VS
Handrails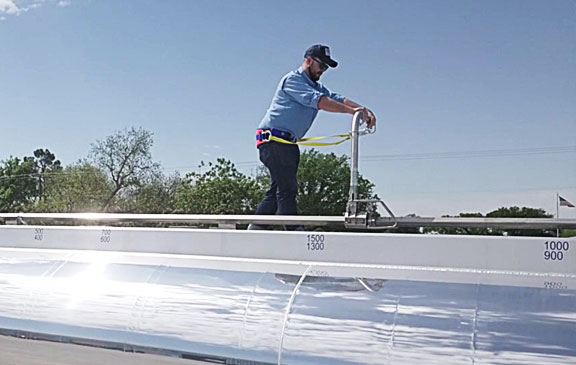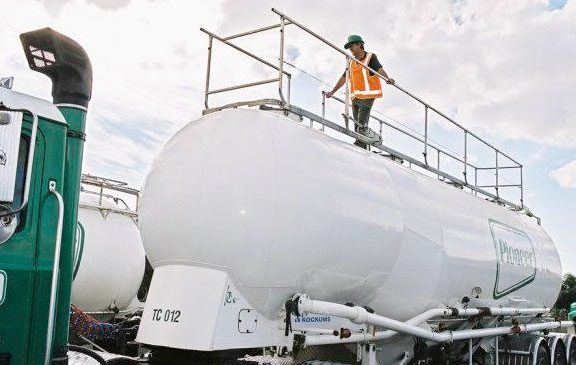 ANSI & OSHA Approved
Not ANSI & OSHA Approved
Feasible Pricing
Expensive
Tested for 5000 lbs. Drop
No Testing
MSHA Compliant
Not MSHA Compliant
2-6 Man Hour Installation Time
12-20 Man Hour Installation Time
Protection in Access/Egress
No Protection in Access/Egress
Safe for Users of All Sizes
Unsafe for Big & Tall Users
Low Maintenance
Pneumatic & Hinge Repairs
No Climate Restrictions
Difficult to use in Hot & Cold Climates
Zero Chance of Falling into Tank
Zero Protection from Falls into Tank
Fall Restraint
Fall Protection
Get Your TRAM Today
Months Long Leadtime